ISSUE 4 | 01.15.19 | Not-so-natural gas boom; Mom's Air Force; A climate change soundtrack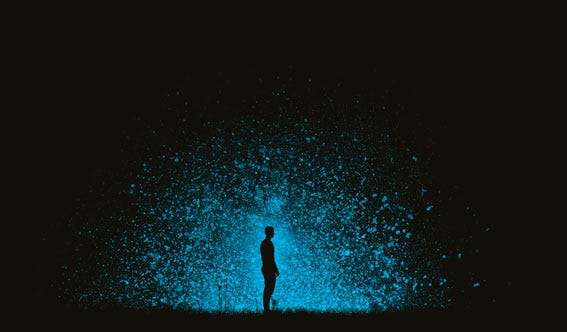 Where do we go from here? | Photo by Daniel Jensen | unsplash.com

QUICK GLANCE INDEX:
ONE | Not-so-natural gas boom. TWO | It's not you, it's the methane. THREE | Fracking West Virginia. FOUR | Incoming from Moms Clean Air Force! FIVE | Hot climate data! SIX | Neil Young and our Climate Activism Playlist. SEVEN | Is climate change YOUR fault? EIGHT | Winds of the future. NINE | Carbon fee gets billed. TEN | A climate change snowman.
NOTE: If you were forwarded this bi-weekly email newsletter, free subscribe at: changingclimatetimes.substack.com
---
ONE | NOT-SO-NATURAL GAS BOOM: Bigger feet than expected
For years, the lower-carbon footprint of natural gas has been touted as a good transition to renewable energy. And a lucrative one. Energy Secretary Rick Perry's keynote at the big World Gas Conference in June 2018 opened with a marching band and ended with the Harlem Globetrotters. The Texas Tribune has sorted through a tangled web of interests that birthed a U.S. natural gas boom. If the Globetrotters are in, it has to be good, right?
But the headline to the Tribune's 08.16.18 deep dive describes the stakes: "The U.S. is helping the natural gas industry make a profit at the expense of the environment." Natural gas used to be natural trash, burned off as an unwanted byproduct of oil drilling. But condensed into liquid form, it's now shipped en masse to places like China and championed as a coal-alternative to combat climate change. This has powered a booming U.S. export industry, first touted by the Obama administration, then unleashed by Trump's:
What's good for corporate profits, however, may not be good for the planet. A growing body of research suggests natural gas isn't the climate panacea many promised it would be, with mounting concerns over its main component: methane, …. In the race for energy supremacy, the U.S. has become not only the world's largest natural-gas producer but also a top exporter of oil — a fuel that remains among the most harmful for the climate and public health. As energy exports climb, so too does global consumption of fossil fuels, drawing billions in infrastructure investment that — some argue — tilts the world away from renewable sources of energy such as wind and solar.
---
TWO | YOU'RE NOT MY FRIEND ANYMORE: It's not you, it's the methane
A recent 12.12.18 installment in the Tribune's gas boom coverage explains why you may be seeing in your local and national media more and more coverage and protests of natural gas pipelines. And of the controversial hydraulic fracturing — better known as fracking — process powering the boom:
Record-high U.S. gas production is also spawning thousands of miles of pipelines and hundreds of gas-fired power plants nationwide, despite urgent recommendations from scientists for a more rapid and extensive transition to zero-emissions sources of energy such as solar and wind. The latest from the National Climate Assessment showed global-warming impacts are already being felt, from worsening blazes such as the November wildfire that tore through Northern California — the deadliest in state history — to intensifying storms like Hurricane Florence, which pummeled the Carolinas with record rainfall in September.
The Sierra Club initially wrapped their arm around natural gas's shoulder, buddying up to a supposedly more climate-friendly energy mix. The friendship's kaput:
"The world as a whole is going to need to reduce its use of all fossil fuels, gas included, in order to achieve the kinds of emission reductions we need," said Nathan Matthews, a senior attorney at the Sierra Club. "When we're building infrastructure now, it's got to be the infrastructure that's gonna get us to zero emissions." The Sierra Club was among several green groups that championed gas as a pathway to renewables but quickly soured on the fuel amid mounting concerns over methane and drilling. As far back as 2012, Sierra Club Executive Director Michael Brune wrote, "It's time to stop thinking of natural gas as a 'kinder, gentler energy source,'" as he launched Sierra's "Beyond Natural Gas" campaign.
---
THREE | NEW ENERGY, SAME PLAYBOOK: Play it again, Sam
My former Charleston Gazette-Mail colleagues teamed up with Pro Publica to craft a blockbuster 2018 series on how the fracking industry has changed the energy playing field in West Virginia. And also, quite literally, changed fields and hills, as the fracking industry tore pages from the rip-and-ship playbook of no-longer King Coal. See "West Virginia's Troubled Transition to Natural Gas," for the knock-on effects of the retreat of one fossil fuel — coal — in favor of a supposedly more climate-friendly one with all sorts of new headaches. (As well as perhaps earthquakes, which the series does not explore, but which this earthquake scientist discusses in a 08.31.18 Heavy article).
PS: Along with being stellar investigative work, The G-M/Pro Publica series also showcases killer multimedia, including audio of a clanking fracking operation, a drone overflight of a fracking pad and nifty maps. Click this link or the graphic below to zoom in on a map depicting the startling growth of fracking across the state. PSS: An essential piece of climate change activism is to support media like the G-M, Pro Publica and Texas Tribune, which do the heavy lifting of essential enviro-reporting.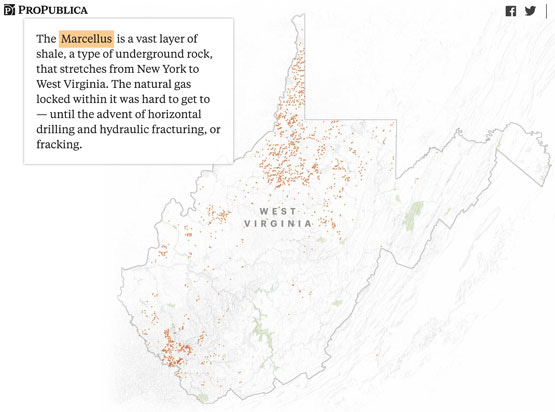 ---
FOUR | IT'S A LOBBYIST THING: Moms against Trump's EPA Pick
Speaking of methane, let us now consider this op-ed by Dominique Browning, co-founder of Moms Clean Air Force. Never heard of the group, but I <heart> its name, plus its 'About Us' mission statement: "Moms Clean Air Force is a community of over 1,000,000 moms—and dads!—working together to combat air pollution, including the urgent crisis of our changing climate." Browning fires a heat-seeking NYT op-ed straight at Andrew Wheeler, Trump's pick to pick up where Scott Pruitt left off in dismantling the Environmental Protection Agency's ability to protect anything. In her 01.19.19 piece, "This Coal Lobbyist Should Not Run the E.P.A. ," Browning writes:
Mr. Wheeler has sought to roll back an Obama-era rule requiring energy companies to monitor and repair leaks of methane; these leaks can occur from the moment a well is fracked until the gas gets to your home. Methane is an extremely powerful and swift contributor to global warming. Rather than move the country onto a path toward climate safety, Mr. Trump and Mr. Wheeler are leading us — and the world — closer to mutually assured destruction…. Mr. Wheeler is more media savvy than Mr. Pruitt ever was, and that makes him more dangerous. His nomination to run the E.P.A. is among the most consequential and cynical of all the cabinet appointments that Mr. Trump has proposed. Mr. Wheeler's disregard for the agency's core mission — to protect public health and the environment — is brazen. But what else should we expect from a former coal industry lobbyist?
This is a clear and present danger: The Senate's Environment and Public Works Committee will consider Wheeler's nomination at a hearing this Wednesday, Jan. 16. Here is how to contact your personal Congress-critters.
---